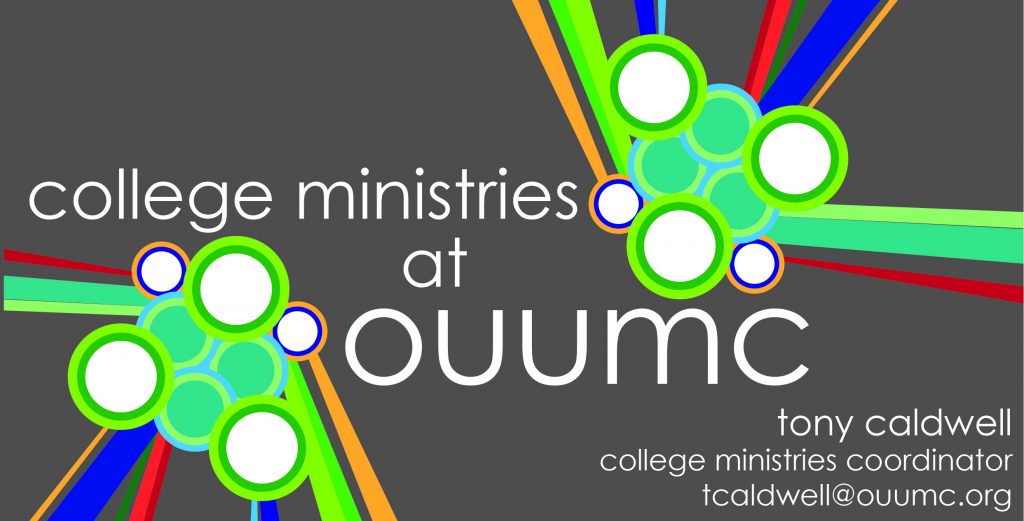 College/Graduate Student Ministry Opportunities
Sunday Morning Worship
8:45 & 10:55 a.m. Traditional Worship in the Sanctuary
9 a.m. The Journey contemporary service in the Activities Center
Sunday School
Sunday School meets at 10 a.m., and is currently studying Revelation.
Yoga
Missy Caldwell leads this gentle, meditative class Friday afternoons at 2 p.m. in the Youth Center. The class is free, but please bring your own yoga mat at water (and a block if you have it).
Volunteer Opportunities
We will be visiting the Boys and Girls Club after Spring Break in order to meet and mentor some of the children. This will happen on a Friday in April at 3:30. They have 160-175 children ages 6-12 so it's a great ministry opportunity for us!
The Boys and Girls Club has also asked us to help paint 2 rooms and help organize a storage area on a Saturday in April.  Stay tuned for details. Email tcaldwell@ouumc.org for more information!
Other
We also have Bible Studies, fellowship, cookouts, trips, and more happening each semester.
For more information, contact Tony Caldwell, College Ministries Coordinator at tcaldwell@ouumc.org.